DEDICATED TO COMMUNITY
COMMUNITY IMPACT REPORT
In 2017 the Yountville Chamber of Commerce began a pivot in the organization's strategic direction, focusing on the modern needs of our members, our town and beyond. Below are highlights of the chamber's successes over the past fiscal year (July 2021 – June 2022).
WE WEAR TWO HATS
The Yountville Chamber of Commerce wears two hats.
We serve as a traditional chamber of commerce and as the marketing arm for the destination of Yountville.
We are proud of this dual role and believe our community is stronger because of it.
The Yountville Chamber of Commerce has four key values that drive everything we do.
Each of our successes ties back to one or more of these four key values.
Building a Thriving Community
We believe in cultivating strong relationships between businesses and strong relationships between businesses and residents.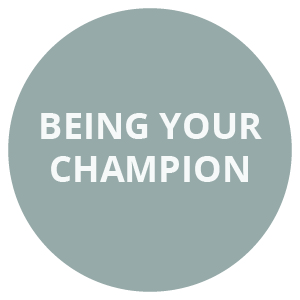 Being Your Champion
We believe in improving the economic well-being and quality of life in our community.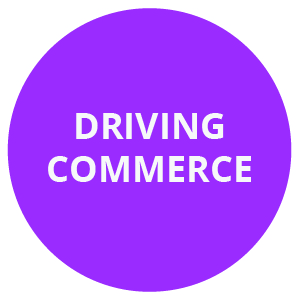 Driving Commerce
We believe in providing the tools, resources and opportunities to help grow member businesses.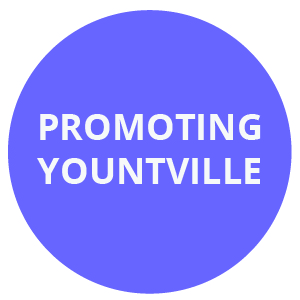 Promoting Yountville
We believe in marketing and promoting Yountville as the premier small-town destination.
BUILDING A THRIVING COMMUNITY
The most important roles a chamber of commerce has is building a thriving community of connected people.
This connectivity enables us to go farther together.
All Member Virtual Meetings
To help keep our members connected and informed, we created "All Member Virtual Meetings," holding our first one on April 1, 2020. Over 1,600 members attended these weekly, then bi-weekly meetings, then monthly. These meetings served as a way to stay connected with one another, get up to date information on the ever-changing guidelines in California, but also an opportunity to hear directly from our Elected Officials. We have now retired these meetings, as we have all grown accustomed to being back in person. They had a great run! 
Membership Jubilee & Awards Ceremony
Our 5th Annual Membership Jubilee took place in May 2022 and was our first big event back in person. Over 300 people attended to celebrate our Business & Community Award winners who are great leaders within our community.
Associate Membership Program
Our Associate Member program continues to thrive. This membership is for residents of Yountville, who want to be informed about what is happening in town and stay connected with our business community. We now have over 100 Associate Members! 
Networking Mixers
Our Networking Mixers are back! We held our first Mixer since March 2020 in August 2021 at The Estate Yountville. During FY 22 nearly 1,500 business leaders attend our Monthly Networking Mixers.
BEING YOUR CHAMPION
The Yountville Chamber is a fierce champion for a stronger community. This begins with a balance between our businesses and our residents.
Napa Valley Chamber Coalition
The Yountville Chamber has stepped up to lead the Napa Valley Chamber Coalition, made up of all six chambers of commerce in Napa Valley. Together we have supported numerous policy efforts around traffic, fire prevention and mitigation, economic recovery and workforce development. Just over a year old, we are finding our way as a group, but it is so refreshing to be collaborating together on items that impact all business across the County
Public Policy
Over the past two years, we have worked tirelessly with our Town Council and staff to ensure our businesses had the support and programs they needed to allow them to operate during the COVID-19 pandemic. We are proud to share, we worked together to make some of the operational flexibility items like outdoor seating, curbside pickup and temporary retail, permanent for our businesses along Washington Street.
Workforce Development
The Yountville Chamber is co-leading the effort for a Countywide workforce development strategy, partnering with education leaders and business leaders. The issue of workforce development and creating a pipeline of talent in the Napa Valley has never been more critical than it is today.
Napa County Job Fairs
In the last year, the Yountville Chamber, in partnership with the Workforce Alliance of the North Bay and Napa Valley Chamber Coalition, have produced two job fairs to help support our businesses in their efforts to hire new employees. Over 118 businesses participated either in person or online and over 193 job seekers attended.
DRIVING COMMERCE
We are a catalyst for business growth and strengthenin gour local economy. At the core of this is provigin out busineses with the tools and resources they need to thrive.
YountvilleChamber.com
Our website YountvilleChamber.com continues to be a resource hub for our members. We have added additional web pages that have detailed resources for COVID-19, Wildfires, Earthquakes, and more. Our Blog also continues to be a resource for updates on our various programs, including mixers, webinars, the welcome center, and more. We see just over 10,000 visitors to YountvilleChamber.com each year.
Professional Development Webinars
Featuring a different topic each month, over an 8-month period our Webinars continue to be a great resource to our members. These webinars provided new skills and knowledge to employees of our members that will enable them to better support their businesses. This year over, 402 people attended the Webinar Series, which covered a diverse range of topics, such as Diversity Equity & Inclusion for businesses, new Recycling and Composting rules for residents & businesses, how to build the best online store for your business, marketing strategies and more
Wine Hospitality Committee
The Wine Hospitality committee made up of Tasting Rooms and Wineries in Yountville focuses on public policy issues important to their business. WHY Committee meets every other month. 
Holidays in Yountville
In its 5th year, Holidays in Yountville is designed to generate commerce and drive visitors to Yountville over the six-week holiday season. Featuring a calendar of over 100 unique experiences for both visitors and locals alike. This year we also partnered with The Boys & Girls Clubs of Napa Valley to add a giving back component to the program.
Yountville Locals Day
We relaunched Yountville Locals & Industry Day on January 31, 2022. We moved this program to Mondays, to better support our businesses on a slower day of the week. A total of 43 businesses are participating and 48 offers are available. We are actively marketing Yountville Locals & Industry Day through social media, eblasts, our local Radio Station The Vine and more.
PROMOTING YOUNTVILLE
We are proud to promote Yountville and the Napa Valley as a premier destination.
Destination Marketing E-Blasts
This year, we adopted a new marketing tactic, sending dedicated marketing email blasts to our email lists. Our email lists consist of our members, but also visitors who have signed up to receive emails about Yountville. The total count is roughly 6,500 emails. We have sent over 24 emails in the past year, with an average open rate of 40%. The industry average open rate is roughly 19%. Content ranges from upcoming events to mustard season to celebrating Mom for Mother's Day and more.
Yountville Chamber of Commerce Facebook
Nearly two years ago, we launched the Yountville Chamber Facebook page. Dedicated to chamber news, community updates and events, member updates and events and more. We have 611 followers. We invite you to follow us to stay up to date on all things chamber @Yountville Chamber.
Social Media
For FY 22 we focused on three Social Media channels: Facebook, Twitter and Instagram. Across these channels, we have over 80,100 followers, we focus on promoting our members and the destination. We are launching TikTok and Pinterest in FY 23. 
Yountville.com
Our destination marketing focused website yountville.com saw large growth over the past year. It is a beautiful showcase of Yountville and our members. We saw over 205,000 unique visitors to yountville.com over the last year.
Yountville Welcome Center
The Yountville Welcome Center saw over 11,000 visitors over the past year, making over 32,000 referrals. We have 33 volunteers who run the Welcome Center, open 7 days a week, M-F from 10:00 a.m. – 4:00 p.m. and S-S from 10:00 a.m. – 3:00 p.m.
Digital Advertising Campaign
In partnership with the NVTID – Yountville, we ran the fourth year of our digital advertising campaign. This program ran off and on for eleven months. The campaign generated 9.2 million impressions, 1.4 million video impressions via YouTube, 33,227 thousand click throughs to yountville.com with an average of 30 seconds on site.
DESTINATION MARKETING SUCCESSES BY THE NUMBERS
2We have over 52,100 social media followers across three major platforms: Facebook, Twitter and Instagram. The data below demonstrates our success on Social Media during the 2021–2021 FY:
Our Facebook page ended the 2021-2022 FY with over 48,355 Followers, a 13% increase from the previous year.
Instagram Growth Increase
Our Instagram page ended the 2021-2022 FY with over 26,314 Followers, a 7% increase from the previous year.
Our Twitter page ended the 2021-2022 FY with over 4,204 Followers, a 1% increase from the previous year.
 DIGITAL ADVERTISING CAMPAIGN
Our Digital Advertising Campaign ran off and on for ten months between August 2021 – June 2022 , promoting the destination of Yountville.
Impressions across five channels: Facebook/Instagram, Google AdWords, Google Display Network, Sojern, and YouTube
The objective of our Digital Advertising Campaign was to implement a multi-channel paid advertisign plan to generate awareness of Yountville in attempt to drive increased visiation during the slow season. 
Our campaign generated over 24,354 thousand click throughs to yountville.com.
Average Seconds on Yountville.com
On average visitors to yountville.com spent an average of 30 seconds on site.
Yountville.com, the Chamber's website, received over 205,868 visitors in the 2021-2022 fiscal year.
Yountville earned over 348,000,000 Digital and Print Media Impressions via our Public Relations Team, Fuller & Sander Communications during the 2021-2022 FY.
Yountville was featured in the following magazines, websites and blogs: Travel & Leisure, KGO TV Show Localish, Haute Living SF, Marie Claire, and many more.
LEADERSHIP CIRCLE PARTNERS
YOUNTVILLE CHAMBER OF COMMERCE
YOUNTVILLE WELCOME CENTER
6484 Washington St., Suite F
Yountville, CA 94599
Monday–Friday: 9AM – 4PM
(707) 944-0904